| | | |
| --- | --- | --- |
| " | I realized that true beauty is whats inside and accepting myself for who I am. - Dinah Jane Hansen | " |
Dinah Jane Milika Ilaisaane Hansen Amasio known as Dinah Jane Hansen (b. June 22, 1997) is a member of the band Fifth Harmony. She is the youngest in the music group.
Personal Life
Born and raised in Orange County, CA, Dinah grew up in a 4-bedroom-house along with 23 other people. The eldest of 15 grandchildren, she is of Polynesian and Tongan heritage. She has stated that her mother remembers the first time she heard her sing "Happy Birthday" at only 4 years of age. She sang the National Anthem in public at age 7 in Sacramento, California. Since then she has been singing at various events in Orange County. She was introduced to music producers and songwriters, including Pacific Big Dave Icon Management Group (PIMG), Kennedy Mailo, Trey Smoov, MsBrown, and Baby J. Hansen, and sang songs of her idols Beyoncé, Leona Lewis, Mariah Carey, and Etta James. Dinah has been said to be similar to Beyoncé due to her having a powerful voice. She had a boyfriend, named Siope Folau.
The X Factor
Audition 
Dinah auditioned for
The X Factor
with the song
If I Were A Boy
by Beyoncé.
L.A. Reid
said that she took the song to places that even Beyoncé didn't, which is a massive compliment, if any. If the star Dinah can outshine even Beyoncé there is no telling what she can do next.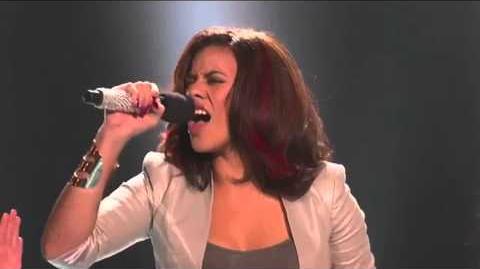 Bootcamp
Dinah's first bootcamp song was Hero by Mariah Carey. On her second bootcamp, she was put up against Diamond White. They sang the song What Doesn't Kill You (Stronger) by Kelly Clarkson. Dinah had unfortunately forgot the lyrics. Simon Cowell said in an interview that if Dinah had remembered the lyrics, she probably would have been put through as a solo singer.
Judges Houses
In Judges Houses, Dinah got the last solo in Impossible. This is the only time to date she is seen performing with her hair in a pony tail.
Live Shows
Known as the "lovable one", Dinah and the girls of Fifth Harmony took on songs that showcased their vocal abilities. Despite not being liked by either L.A. Reid or Britney Spears, the girls, with support from their mentor Simon Cowell, were voted through week after week. Dinah's beautiful voice was on display in her solos on such songs as "Set Fire To The Rain" and "A Thousand Years".
Pairings
Accounts
Community content is available under
CC-BY-SA
unless otherwise noted.