Hi everybody! This is just a quick post to the new users. I just wanted to tell you guys that I'm very happy about the fact that more people are joining to the Wiki, this seriously means a lot since the Wiki couldn't be managed at all with only three people so I'm really really glad about it.
So, I have quick messages to new users:
Kristiegirl : Hey! I really love the way you edit because you add really constructive information and I really apreciate that, it really helps. Your edits on this Wiki had been AMAZING!
HarmonizerFlove : Hey! I just wanted to tell you that I'm very thankful about you adding pictures and media stuff specially on the pairings pages, I haven't added pictures on a while so I really apreciate that. 
Also there are a few anons helping, I really apreciate that too but you anons should remember not to add negative information on the Wiki, there are a few anons that keep writing things related to Camila and Lauren sexual orientation and I don't wanna come out as a rude person but I'm really done with that, please remember to add real information, remember that there could be young people visiting this Wiki.
To all of you in general remember to visit our New User Guide before getting started on the Wiki, also remember not to be afraid to talk to the admins: 
Ben: He's the main admin on the Wiki, you can ask him for any kind of situation on the Wiki like for example when users are being rude and things related to that.
CeCe: That's me! The female admin here! You can ask me anything too! Don't be afraid! I will help you on any dobut that you could have. You can talk to me about anything!
Derik: He's been off the couple months but I guess he'll be back.
So finally I hope you guys enjoy being in this Wiki, hope you guys have fun. Love you all! (: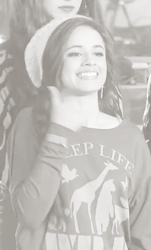 -CeCe